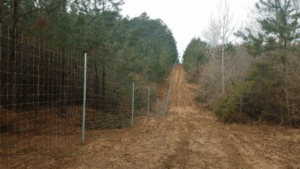 Straight Shooter Game Fencing is one of the most trusted names in high-tensile fencing installation throughout the South East. We offer a large selection of professional fence materials for your project, no matter how big or small. Keep reading today's blog for a brief rundown of game fencing and reasons you might consider having a barrier installed around your property.
Why Do I Need Game Fencing?
Game fencing is used for two primary purposes: to keep animals in and to keep intruders (both human and predatory animals) out. A professionally-installed game fence will be strong, effective, and secure.
Types Of Game Fence
We offer many different types of game fence depending on your needs. If you have horses, for example, you might choose a high-tensile mesh. Made of steel, this can be both visually pleasing and long-lasting. For grazing cattle, choose high-tensile fixed-knot steel. This has a long service life and is available with predator control barriers.
If you live in an area, such as Louisiana, where wild hogs or boar are common, you'll need something strong that can keep these nuisances from rooting and causing damage to your own livestock's habitat. Wild pigs are not necessarily predatory, but they are known to prey on juvenile lambs, goats, and fawns.
Water Gaps
If you have a pond, creek, or other body of water on your property, you don't have to worry about your game fence being interrupted. Straight Shooter Game Fencing offers custom water flow systems that reduce predatory intrusion without barring access to water for your agricultural livestock.
Custom Gates And Openers
Straight Shooter Game Fencing also offers custom fabrication for gates and opening systems. An ornamental fence can help your game preserve, farm, or ranch stand out. Ask about electric options that allow you easier access to your property.
Game Fence Repair
If you already have a game fence system in place, you can count on Straight Shooter Game Fencing to offer expedient and professional repairs. Our team of experienced installers can also help you look ahead at potential future issues so that you can make repairs and upgrades that will last for the life of your fence.
For more information about high-tensile game fence materials or installation, contact Straight Shooter Game Fencing today. With decades of experience in the industry and the lifetime guarantee, you can trust that your project will be our number one priority.