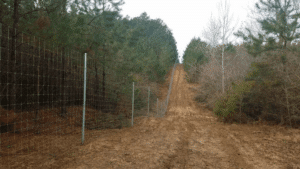 Whether you are a hobbyist, professional breeder, or showman, your horses are likely your pride and joy. These majestic and gentle creatures deserve the best possible protection, and game fence can provide it.
Today, Straight Shooter Game Fencing lists a few of the most popular horse fence options and discusses reasons why a fixed-knot fence should be your top choice.
Common Fencing Materials
Wood – Wood fences can be built to any height, but they require yearly maintenance and are subject to rot and degradation
Plastic/Pvc – This type of material maintains its aesthetic appeal and is easy to clean, but it's not as strong as other options
Field Fence – Field fence material poses the risk of entanglement and also breaks easily
Barbed Wire

– Barbed wire works well for cattle farms, but if you have other animals, steer clear

Electric

– An electric fence may keep your animals in, but it's not very long-lasting and is easily jumped by hungry predators

Pipe Fence – Highly effective as a game fence but cost-prohibitive
We Recommend Fixed-Knot Steel Mesh
High-tensile mesh horse fencing is not only most property owners' top choice, but it's also cost-effective and more reliable than the vast majority of other options available on the market today. There are many benefits of fixed-knot mesh fencing. These include:
Available in multiple mesh patterns, heights, and framing
Highly visible, which can help reduce the potential for impact
Keeps dangerous predators away from your horses
Built of Class-3 galvanized steel wire
One of the only game fence options with posts that can be spaced up to 20 feet apart
Virtually maintenance free
For game fence, a fixed-knot design is constructed of high-tensile wire. This is the most impact-resistant and load-bearing material. Fencing built with high-tensile wire is also able to withstand the force of predators, such as wild hogs, wallowing or charging for an opening.
If you are looking for a game fence material that's low-maintenance, you've found it with fixed-knot fencing. Further, this class-three galvanized steel is available in a variety of different coatings, depending on your environment. For example, if you're in a coastal area, your fence can be coded with a zinc-aluminum that resists corrosion.
Steel game fence is available in many different patterns, each of which is suited for a different utility. Stay tuned for part two, where we will discuss spacing and height and also touch base on maintenance, water gaps, cost, and longevity.
Do you need more information now? Contact Straight Shooter Game Fencing at [email protected] for your free quote and additional insight into agricultural fencing.