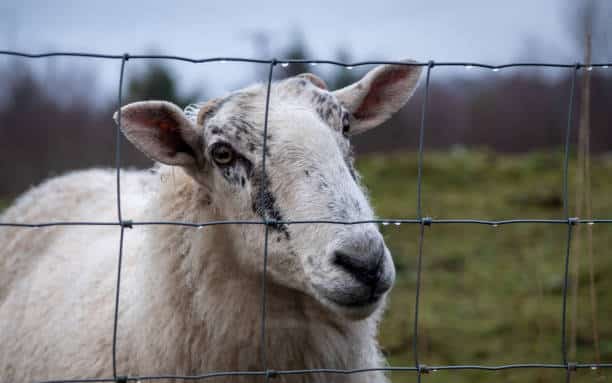 As a livestock owner, you may wonder what's the best fencing for sheep to protect your investment. High fence comes in electric, woven wire, and more.
Once you've made the investment in land and sheep, one of your next biggest expenses may be a fence to keep your interests and assets safe. Sheep are a vulnerable and tasty treat for predators, but there are ways to deter threats. If you've yet to add buying a high fence to your to do list, today's post is for you.
High Fence Makes Sense
To be as small as they are, sheep actually have a pretty impressive span when it comes to flying through the air. Sheep may be able to jump as high as 40 inches to 48 inches, so you need a high fence to keep your furry little fluff balls from wandering. More importantly, having the right type of agricultural fencing in place will keep your lambs' chops off the big bad wolf's dinner plate.
Two Types Of Sheep Fence
A sheep farmer requires two different types of fence. The first is for the perimeter. A perimeter fence might be built of 12 gauge high-tensile electric wire. This is usually fairly inexpensive to construct, and it's reasonably effective at keeping hungry predators at bay. High-tensile fencing is installed with a tension level of 250 pounds, but it can withstand a much greater impact. This means that it will retain its shape, even after being run into by a large animal.
Perimeter fencing may also be built of woven wires, which may be placed as close as one and a half inches toward the bottom of the fence, which is ideal if you plan to keep baby goats. Mesh wire is another option. 
The second type of fence needed for sheep is a cross fence. These are used to subdivide smaller areas, called paddocks, for grazing. These inner fences don't necessarily have to deter predators, but they should be strong enough to keep recently weaned lambs away from their mothers. Your interior perimeter doesn't always require a high fence, and it may even be a temporary structure if you plan to have your sheep graze on a wheat or corn field. If you utilize temporary fencing around your paddocks, you can even use inexpensive polywire or poly tape and a metal T-post.
How High Is Just Right?
Aside from knowing what's the best fencing for sheep, you must also consider the height of your high fence. As a game fence installer, we recommend no shorter than eight feet. This height should deter even deer from wandering into your area. Further, if you have issues with animals digging under your fence, you may want to extend the overall length to include a perimeter predator apron.
Pros And Cons Of Common Fencing Materials
High fencing can come in many different shapes and sizes, and there are about a dozen different options. Straight Shooter Game Fencing recommends high-tensile wire, but if you are on a budget, you may need to look at other options. If you have existing barbed wire, this is the least expensive;  it's also fairly easy to install in other areas, if needed. However, barbed wire may not be effective at all unless it's combined with another type of woven wire fence.
Speaking of woven wire, this makes a great visual barrier and provides exceptional predator control, but it can get expensive. However, woven might not be the best option for temporary fencing needs. Stock panels, which you can pick up at your local hardware store, are an exceptional visual barrier, but they are expensive and usually only work best in corrals or small holding area notes.
Ask your game fencing representative about other options you may have. Our experts can walk you through the process and help you decide on the perfect sheep fencing for your land, needs, and budget.
Tuscumbia, Alabama-based Straight Shooter Game Fencing is the South's premier game fence provider. Offering high-tensile fencing materials and installation, self-install materials, water gaps, and custom gates and openers, Straight Shooter Game Fencing has a full line of products built for landowners. With nearly four decades of combined industry experience and thousands of miles of fencing installed, Straight Shooter Game Fencing has what it takes to get the job done to protect your crops, livestock, and land.